Confetti is a celebration of Disco by a group of experienced and passionate musicians who share a love of entertaining an audience with such timeless, classic and joyful music.
 
As if teleported through time from the 1970s, Confetti brings the very essence of Disco to each and every performance. The glitz, the glam and infectious grooves of Disco icons such as Gloria Gaynor, Donna Summer, The Bee Gees, ABBA and Hot Chocolate, have been religiously recreated right down to the smallest sequin and syncopated beat! 
 
Confetti have lovingly crafted a selection of over 100 songs from the golden era of Disco allowing them to cater for any pub/club gig, corporate event or special celebration with the guarantee that everyone will think they are at Studio 54!
 
So why not throw on a frock, put up the glitter ball and have Confetti make your next event a night to remember! 
 
Viva la discotheque!
Grace Losurdo - Lead Female Vocals
Grace is more than just amazing, she is the quintessential vocal embodiment of the classic 70s disco diva! Grace draws on years of experience, including touring with Delilah as backing vocalist, to deliver a level of authenticity to her performances with Confetti not normally seen or heard. Close your eyes and imagine the golden voices of Gloria Gaynor, Diana Ross, Donna Summer and Tina Turner rolled into one and you have Grace Losurdo! But wait, there's more! Combine that with her Farrah Fawcett's hairstyle and unsurpassed skills on a Jenome sewing machine unleashing fabulous fashion creations that Coco Chanel would be proud of and you have the ultimate 70s disco sensation!
Darren Ally - Lead Male Vocals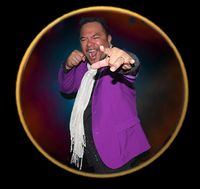 Darren Ally - aka D-Man aka Tonga Jones has been entertaining audiences for more than 25 years. As lead singer of western Sydney funk thrash pub stalwarts, Citizen Dog, to the big band sound of Tonga Jones and the Funkin' Great Band and the classic funk of Dr Feelgood, to the Aussie pub classics with pub legends: Australian Played and Oz Icons, D-Man's versatility as a performer has been tried and tested but never bested over 2 decades. Now...after restlessly wandering the Sydney musical landscape, he has found a new home. For, indeed, it is the disco sound of the 70's where his true musical heart lives and which is why Confetti and the D-Man are such a perfect combo! With his James Brown stylings, soaring falsettos and big booming Barry White tone, the D-Man brings the funk and soul to the already established Confetti set and sound. Get up and get down for the unique D-Man sound! When he comes to your town you know it's your duty to move that booty!

Aly Osborne - Backing Vocals + Percussion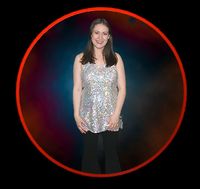 There are very few vocalists around who love to specialise in creating great harmony backing vocals. Thankfully for Confetti, we have been vocally blessed with our harmony specialist, Aly.  Aly has a rare talent in that she can pretty much harmonise with anything that utters a sound. She could even make the Sex Pistols sound like The Stylistics with a few, well chosen harmonies! Great vocal production is vital to disco and Aly adds the icing to our formidable lead vocal team of Grace and Darren.To pass the time between harmonies, Aly also adds the occasional bit of percussion to various songs where required and as if that's not enough, this musical over-achiever also has a Bachelor of Dramatic Art and has directed and managed a variety of plays and productions.
 
Wayne Black - Drummer
Wayne is a very accomplished, dedicated and meticulous drummer who has played with many of Sydney's finest musicians.  His wide ranging experience has seen him playing and touring with originals bands, big bands, tribute shows, 70s and 80s cover bands through to soul, jazz and blues bands.  
A recent overseas trip saw him playing with some jazz friends in Chicago! Add in studio session experience and the ability to learn songs fast and it is easy to see that Wayne is the "go to guy" for percussion – which is exactly what Confetti went and did!  Disco is all about rhythm and with Wayne providing a solid foundation down in the engine room in collaboration with Confetti bass player Dom, all the other magical layers that make up great Disco are able to seamlessly fall in to place on the rich, rhythmic tapestry provided. Top it off with a sparkling Pearl kit that almost dances by itself and the engine room is the place to be!

Danul - Guitarist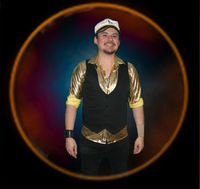 Danul's extensive experience as a professional musician has seen him play throughout Australia and on X-Factor, tour with an Aria Award winning artist and perform alongside the best session musicians such as the band from 'The Voice'. He also is the director and teacher at the Both Worlds Music School where he imparts his passion and knowledge to the future musicians of Sydney. In 2018 Danul was bitten by the disco bug and fortunately for Confetti, never recovered.
 
Paul "Pod" O'Doherty - Keyboard
Our keyboard player Pod, is a multi instrumentalist who has the ability to play a variety of instruments (including Tuba and Ukulele). Pod has always wanted to play Disco however he has never really found the right opportunity to fully spread his Disco wings, until Confetti came calling. Pod has many years of rock/pop band, orchestral and concert band experience under his belt performing with popular function band Live Band Karaoke, The Headliners and Wayne Pearce and the big Hitters, and also previously performing on pipe organ and tuba (not at the same time) at The Sydney Opera House. 
When not arranging Disco classics on his ukulele or playing keyboards for Confetti, Pod is an award winning senior sports producer/editor with a career covering everything from The Ashes to Wimbledon.  Pod has also built his own home rehearsal/recording studio complete with glitter ball.

Dom Kennelly - Bass + Backing Vocal
Confetti bass player, Dom started his musical career in Westfield Plaza, Hornsby singing "Raindrops Keep Falling On My Head" at the age of 4. Enjoying the experience so much, he decided to stay on stage and sing the song again only to be promptly booted off so some other kid could sing "Baa Baa Black Sheep".
Skipping forward a few years, Dom has been playing bass in various original and cover bands around Sydney performing in most major venues on the circuit and often being called upon to "fill in" at a moments notice. 
Dom also spent a number of years 'behind the glass' working in the recording studio with diverse acts such as The Screaming Jets, Def FX, Swoop, The Bushwackers and The Whitlams Still, as some would say, 'Yeah, but it's not Disco!' and so, after learning about Confetti's life long dream to showcase Disco, he jumped at the chance to perform such amazing songs and climbed on board the Confetti train!